Retirement Boulder
Market Risk
It feels good when the market is up. But when it goes down, not so much; especially when you lose 40% or more of your retirement savings in the blink of an eye. That's not a pebble. That's a boulder. Our Market Flashlight can help you avoid it.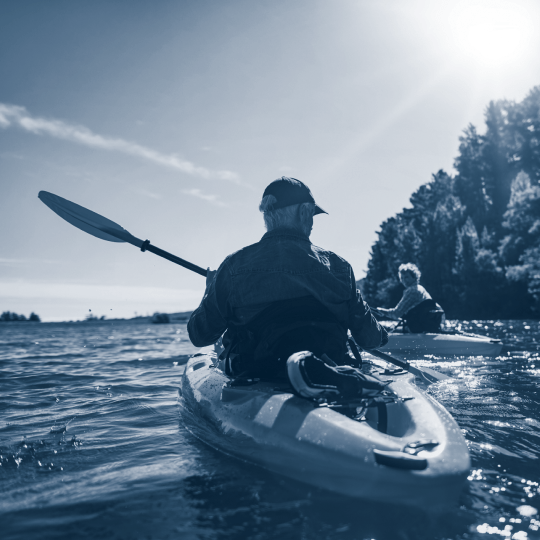 The amount of risk you take getting to retirement, shouldn't be the same amount of risk you take in retirement. The trouble is that those pre-retirement investments were designed for growth. In retirement, the focus should shift to protection. A large loss is dangerous for retirees because there's not enough time to get it back.
Financial Advisors Are Part of the Problem
Most financial advisors are programmed to choose investments, not protect them.
But many retirees assume their financial advisor will recalibrate their portfolio as they near or enter retirement. You might be surprised to learn many don't — or don't do enough. And when the market takes another dip, you are the one who loses.
You Need A Market Flashlight
With our Market Flashlight you won't be left in the dark when it comes to your market risk.
This tool shows you exactly how much risk you currently have in your portfolio, then we run a stress-test to see what that risk means in real dollars if another 2000 or 2008 were to occur. The rest is up to you based on your comfort level. Our Retirement Planners can then replace any investments you feel have too much risk, allowing your money to grow safely.
Avoid the Market
Risk Boulder
Learn more about the Market Risk Boulder on the Expedition RetirementSM Show. New episodes weekly.
Market Risk Boulder Articles
How to Get a Market Flashlight
The Market Flashlight is part of our Roadmap for RetirementSM, your comprehensive plan for protecting your retirement.
Your personalized Roadmap for RetirementSM contains all the tools you need to minimize what could be the greatest risks to your retirement, including the Market Flashlight, a Long-Term Care Compass to protect against long-term care costs, a Tax Map to lower your overall tax burden, and a Fee Filter to identify how much you're paying in investment and advisor fees.